Drunk Teen Creates Mayhem Trying to Flee a Party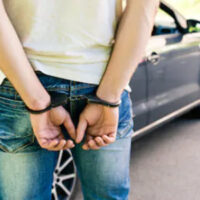 A 16-year-old is in deep after drunkenly attempting to flee a party. The teen managed to hit four other teens while attempting to escape the scene of a vacation rental home.
Police arrived to the scene amid noise complaints causing the immediate dispersal of several teens. The four victims were standing at the mouth of a driveway when the 16-year-old suspect attempted to pull out. The suspect hit the teens with a Kia Stinger. Police say that he dragged a 16-year-old girl 450 feet without realizing he'd struck her.
The suspect also managed to hit a parked Jeep Cherokee and drove across multiple driveways and lawns before the girl who had been hit by the Kia became dislodged. The girl suffered multiple injuries, including bone fractures and skin loss. She had to be flown to Arnold Palmer Hospital to receive life-saving treatment.
The other three victims did not sustain life-threatening injuries, the police said.
Looking at the Charges 
The suspect blew a .121, harmed another person at the party, and did a considerable amount of property damage. He also attempted to flee the scene. So, the litany of charges is long. Let's tally it up here.
DUI (2nd-degree misdemeanor)
DUI with serious bodily injury (3rd-degree felony)
DUI with property damage (1st-degree misdemeanor)
Leaving the scene of a crash with serious bodily injury (2nd-degree felony)
Leaving the scene of a crash with property damage (2nd-degree misdemeanor)
In this case, a prosecutor is likely to offer this defendant a plea bargain. If he pleads guilty to the two most serious crimes for which he is being charged, the prosecutor should be willing to drop the rest. However, both of those charges are felonies.
DUI with serious bodily injury is a 3rd-degree felony. In Florida, it comes with a maximum 5-year sentence. Leaving the scene of a vehicle crash with serious bodily injury, however, is a second-degree felony. That comes with a maximum sentence of 15 years. This young person is likely facing significant prison time for what he did while he was drunk.
If you cause a serious injury during a vehicle accident, you are expected to render aid to the individual. It doesn't matter if you don't know that person is seriously injured because you're supposed to stop anyway, exchange information, and render aid if necessary. However, knowledge that the accident had occurred is a prerequisite to a successful prosecution. In this case, the defendant will have a hard time, but he may be able to say that he wasn't aware of the girl who sustained the worst injuries.
If the victim dies, then the teen is likely to face charges of DUI manslaughter, which comes with a likely mandatory minimum sentence of over 10 years.
Here, the judge will take a long hard look at whether or not the teen attempted to flee the scene of the accident after he became aware that he struck four teens pulling out of the driveway. If the evidence seems to indicate that he did, then he could face five to ten years behind bars, depending on what other priors he has.
Talk to an Orlando DUI Attorney Today 
If you're facing charges for DUI in the Orlando area, call the Florida DUI defense attorneys at the FL DUI Group immediately. We can help protect the integrity of your defense and ensure that law enforcement has presented an ironclad case.
Resource:
clickorlando.com/traffic/2020/07/23/dui-suspect-16-hits-4-teens-while-trying-to-flee-party-at-vacation-rental-home-in-davenport-deputies-say/
https://www.flduigroup.com/sentence-overturned-on-appeal-in-dui-manslaughter-charge/