Florida Woman Facing DUI Charges After Injuring Her Children In Crash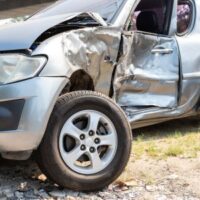 A Florida woman is facing serious charges related to DUI after attempting to drive her two young children to a kindergarten graduation ceremony. Police say that she fled the scene of two crashes and eventually flipped her vehicle. She will face three counts of DUI causing serious bodily injury, two counts of negligent child abuse with great bodily harm, reckless driving, DUI with property damage, and DUI. All of this occurred during the same trip.
Police say that the woman was driving south on highway 27 when she struck a pickup truck and fled off. As she was fleeing the scene of that accident, she rear-ended another vehicle. Eventually, in an attempt to get away from that accident, she ended up flipping her vehicle severely injuring the two young children that she had inside of her car. Both of her children were ejected from the vehicle. They were both listed in critical condition.
Analyzing the charges 
DUI causing serious bodily injury is a felony. It is considered a third-degree felony under the law with a maximum penalty of 5 years in state prison. She is facing three counts. Two of those counts are related to her own children. She is facing other counts of negligent child abuse causing great bodily harm at the same time. DUI with property damage is considered a first-degree misdemeanor punishable by up to 1 year in jail. She could logistically be charged with three counts of DUI causing property damage, one for each vehicle she struck.
This will be a difficult case to defend and she could still face charges of DUI manslaughter if either of her children do not survive the accident. In cases like this, attorneys advocate on behalf of the client and defend the client from an overly draconian sentence by discussing mitigating factors in the driver's life that gave rise to this sort of behavior. In other words, we argue that it's out of character for our client to behave like this, they're going through a difficult time in their life, and they lost control of their alcohol.
However, it could trigger social services looking into whether or not she is a safe parent. She will need to show the court that she is aware that she has a serious problem, is willing to meet the court's requirements to address that problem, and then actually follow through with court-ordered therapy and mental health counseling. It will also help matters considerably if she does not have any previous criminal record.
So, in cases where it's nearly impossible to defend the client from the illegal conduct, you try to defend the client from the worst-case scenario sentence.
Talk to an Orlando DUI Lawyer Today 
FL DUI Group represents the interests of those charged with DUI in the Orlando area. Call our Florida DUI lawyers today to schedule an appointment and we can begin preparing your defense immediately.
Source:
foxnews.com/us/florida-woman-faces-dui-charges-flipping-vehicle-critically-injuring-young-children