Police Use Suspect's Phone To Piece Together DUI Manslaughter Charge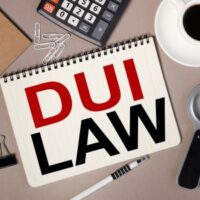 A woman involved in a DUI manslaughter investigation turned herself in to authorities after a deadly hit-and-run accident. She has since been charged with DUI manslaughter and leaving the scene of an accident.
The morning of the accident, a pedestrian discovered the body along with a badly damaged bicycle. Police were able to later track down the vehicle days after the accident. However, the suspect was not tracked down until much later.
While it may seem tempting to flee the scene of an accident, figuring that the police will not be able to test you for alcohol intoxication, the police can use other means to determine if you're guilty. In this case, they tracked the woman's geolocalization data the day of the accident, and tracked her going from one bar to another. Using this evidence, they were able to charge her with DUI manslaughter and fleeing the scene of a fatal accident.
Staying at the scene produces a superior outcome 
DUI manslaughter has a recommended sentence of 10 years. In order to avoid a 10-year sentence, your attorney must argue to the court that you deserve it. This is considered a "downward departure" sentence and is made available to most defendants who do not have prior DUIs. The mandatory minimum for a DUI manslaughter conviction is 4 years. So, there's no way to serve less than 4 years if you plead guilty. And you have to beg the court for the right to serve only 4 years, plus the judge has to agree that the circumstances of your case deserve it.
In this case, the defendant left an injured man by the side of the road to avoid a DUI charge. Had she stayed, the man might have survived and she'd be facing a DUI causing bodily injury charge for which there is no mandatory minimum of prison time. Even if the man still dies, the woman is not facing the fleeing the scene of a fatal accident charge and her chances of securing a downward departure sentence are much better.
Lastly, if you hit someone, chances are good that there is a brief window of opportunity to save them. You can't know if they're still alive from inside of your car. This is considered moral conduct and could save a life. Those who stop and make the effort to save the individual could avoid DUI manslaughter charges if first responders can save them. If the individual does not survive, then they can argue that they should be given a downward departure sentence because despite their mistake, they are still a good person.
This woman will not be able to claim that. Prosecutors may present evidence that the victim died in pain as she was driving off. They can present evidence that EMTs generally save people with his injuries. She is not among the sorts of folks who are awarded downward departure sentences.
Talk to an Orlando, FL DUI Attorney Today 
FL DUI Group represents the interests of those who are charged with DUI in the Orlando area. Call our Florida DUI defense lawyers today to schedule an appointment and we can begin preparing your defense immediately.
Source:
fox35orlando.com/news/arrest-made-in-hit-and-run-death-of-gainesville-bicyclist-police-say