Airport Incident Results In Harrowing Motorized Suitcase Pursuit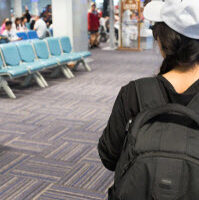 Every once in a while, we have to get a little chuckle over a news story coming out of our home state of Florida. Florida is renowned the world over for being the craziest place in America. This has resulted in "Florida Man" becoming its own meme. This is largely the result of some of the ridiculous scenarios that law enforcement officers have to deal with on a daily basis.
In this case, a woman was denied boarding on her flight for being too drunk so she got on her motorized suitcase and started riding around on it. This prompted an officer on a bicycle to chase the woman down inside the airport. In other words, you have an officer on a bicycle chasing down a drunk patron on a motorized suitcase. Only in Florida.
The woman was charged with battering an officer and damaging the patrol vehicle. She has not been charged with DUI in this case. However, she could have been. Below, we'll discuss why.
Understanding Florida DUI laws 
DUI applies to any vehicle, including a bicycle or a motorized suitcase, so yes, you can be charged with DUI for this crime. However, DUI typically happens on roadways. Does that matter? Not really. Why? Because folks get charged with DUI on scooters all the time and they are on sidewalks. Now, what about the inside of a building? Can you get charged with DUI for driving a motorized suitcase inside of a building? The answer is: Probably. Florida's DUI laws are so broad that they could apply to riding a motorized suitcase in an airport. There is nothing apparent that precludes such a prosecution. It didn't happen here, but the police had two felonies on which they could convict the woman, the first being criminal mischief and the second being battery on an office (for spitting at him). So, a misdemeanor DUI isn't really important to their case against the woman.
How to handle this situation 
If the TSA or a flight attendant or anyone else denies you passage on a flight because you are too drunk to fly, you should simply chill, drink some water and coffee, and wait for the next flight. Causing a scene, leading police on a motorized suitcase chase, spitting at them, and destroying property do not effectively improve your circumstances. They only annoy the police. In this case, the woman could have just sobered up for a bit, waited for the next flight, and everything would have been okay. But some folks go on autodestruct when they don't get what they want. If convicted, the woman faces a maximum 10-year sentence in state prison.
Talk to an Orlando DUI Attorney 
If you have been arrested for driving on a motorized suitcase, call the Florida DUI defense lawyers at FL DUI Group today and we can begin preparing your defense immediately.
Resource:
clickorlando.com/news/local/2022/02/15/full-video-drunken-woman-on-motorized-suitcase-leads-police-chase-through-orlando-airport-officials-say/