Juvenile Detention Officer Charged in Bizarre DUI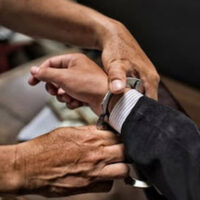 Authorities claim that a juvenile detention officer, Krystal Raquel Payne, was swigging shots of Crown Royal right from the bottle while she was driving her SUV. They say she hit seven parked cars and then tried to walk away from the scene wearing only her bra and panties. She appears to have removed a black hoodie that she left behind in a 2015 Chevy SUV.
Eventually, she crashed her vehicle around 4:30 a.m., crawling out of the passenger side in an attempt to escape the wreckage. When deputies arrived, they demanded that Payne return to her vehicle, but Payne proceeded to "briskly" walk in the opposite direction. Police say they had to pursue Payne and then forcibly return her to her vehicle for questioning.
The report says that an empty cup of liquor had been spilled on the driver's side of the vehicle. Payne's eyes were bloodshot and watery and her speech was slurred according to officers. They said that they could smell the liquor on her breath as she spoke to them.
Payne was eventually taken to the hospital after complaining of chest and stomach injuries that she appears to have sustained in the crash.
Payne Wakes Up in the Hospital 
When deputies tried to approach Payne after she had been deposited in the hospital, they say that Payne seemed unable to recognize them, perhaps because she was blacked out when they arrested her. Payne became "aggressive and belligerent" according to the police report, two words that roughly mean the same thing, yet duplicated for the purposes of creating a stronger impact. She then told the investigators that there was no investigation and attempted to take her license back from one of the police officers who were questioning her. Payne says that she didn't remember being read her Miranda rights.
The officers reread her Miranda rights and explained that she was under investigation for a hit-and-run DUI accident. Payne confided that she was law enforcement and that she knew "all the laws". She informed officers that she was prepared to do sobriety tests, but since they hadn't conducted them already, the officers "had nothing" and "couldn't investigate anything".
After failing both a breath test and the field sobriety tests, Payne admitted that she was in the car at the time of the accident, but she was not the one driving. Payne will be charged with DUI with property damage and attempting to flee the scene of an accident.
DUI with Property Damage 
Police say that Payne managed to his seven parked cars doing considerable damage while she was under the influence. Property damage acts as an aggravating factor in DUI cases and can double the penalties for simple DUI.
The prosecution must still be able to prove that Payne was the one driving the vehicle at the time of the accident.
Talk to an Orlando DUI Attorney Today 
If you've had a wild night, you could end up facing serious charges, even if you're a juvenile detention officer who "knows all the laws". Call the Florida DUI defense attorneys at the FL DUI Group early in the process and let us handle your case. We will ensure that you are not overcharged or convicted on bad evidence.
Resource:
sun-sentinel.com/local/palm-beach/fl-ne-juvenile-detention-cop-dui-20191227-v7a3ddzfsrayfnmkpjpq2so5be-story.html
https://www.flduigroup.com/florida-man-says-cocaine-baggie-flew-in-through-window/