Police Officer Resigns After Second DUI Arrest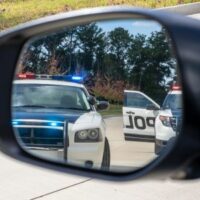 DUI can happen to anyone, even police officers. Typically, if a police officer is caught driving under the influence of alcohol, they can keep their job so long as they were not on duty when the DUI occurred. However, the penalties for a subsequent DUI are always harsher than the first. After the same officer was arrested again for DUI, he was immediately suspended without pay, and shortly thereafter, tendered his resignation. Now, he still has DUI charges hanging over his head, and the penalties for a second DUI within a 5-year period are roughly double the penalties for a first DUI.
What happened? 
The officer was found passed out in his truck which was parked on the median of State Road 44. According to the arresting officer, the truck was still in drive when he found the defendant passed out behind the wheel. The officer refused to take part in any field sobriety tests, which is his right under the law. However, he also smelled of alcohol and was barely conscious, so he was placed under arrest.
Understanding how DUI penalties work 
If you are found guilty of simple DUI and it's the first time you've ever been caught under the influence, then you would face a second-degree misdemeanor. A second DUI within a five-year period counts as a first-degree misdemeanor. The penalties for a first-degree misdemeanor are roughly double those of a second-degree misdemeanor.
Those caught under the influence for a subsequent time face a mandatory minimum of 10 days in jail with a possible maximum of 9 months. Depending on the officer's BAC at the time of his arrest, he could face up to a year in jail if his BAC was greater than .15. The officer will face at least 6 months probation and a fine of at least $1,000. The officer will have his driver's license revoked for a minimum of five years.
DUI probation 
Anyone who pleads guilty to or is convicted of a DUI offense is required to be placed on probation by the judge. While DUI probation may not sound as harsh as parole, chances are good that someone who is placed on DUI probation will not see it that way. Those placed on probation are required to meet with a probation officer monthly, be accessible at all times if their probation officer wants to check on them, pay $50 a month, surrender all of their firearms, not violate any laws, agree not to drink or use drugs, submit to random alcohol and drug testing, complete DUI school, complete community service, and remain in your current residence until your case is over.
Talk to an Orlando, FL DUI Attorney Today 
If you're facing charges related to DUI, you have options. You can fight the charges or attempt to plead them down. The FL DUI Group can advise you on your best course of action. Call our Florida DUI defense attorneys today to schedule an appointment and we can go over your options together.
Resource:
fox35orlando.com/news/belle-isle-police-officer-arrested-on-dui-charge