75-Year-Old Woman Runs Over Friend After a Night of Drinking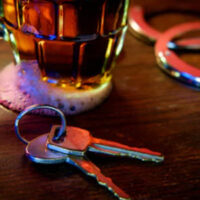 A 75-year-old woman is facing serious charges after she drunkenly ran over her friend after a night out at Carraba's. Rita Fulp has been charged with DUI manslaughter for the accident that occurred on October 5, 2019.
The arrest report states that Fulp exited the bar after a night out with friends. She dropped off her friend, Larry Anderson, at his apartment complex on Jamestown Blvd. As she drove off, Fulp hit a bump that she erroneously believed was the median. She backed up and hit it again. When she got out of her car to check to see what happened, she realized that the bump was her friend, Larry Anderson.
Fulp admitted to police that she'd imbibed three tequila drinks and was on blood pressure medication as well as an antidepressant. Investigators took her BAC twice and returned scores of .13 and .19.
Fulp Faces Charge of DUI Manslaughter 
Florida takes driving under the influence of drugs or alcohol very seriously. These deaths are preventable simply by obeying the law. As such, the penalties for these charges are severe. Fulp can face as many as 15 years behind bars for her role in her friend's death. She is facing a mandatory minimum of 124.5 months (or just over ten years).
In the event that a judge finds cause to impose a downward departure sentence, an individual who pleads guilty to DUI manslaughter still faces a statutory minimum of four years behind bars.
Downward Departure Sentencing 
In Florida, judges are required to impose statutory minimums for criminal convictions. The statutory minimum for DUI manslaughter is 124.5 months. However, the judge can depart from a statutory minimum if there are mitigating circumstances.
The decision to impose a downward departure is completely at the judge's discretion. It can also involve recommendations from the prosecutor, but in general, the judge must have good cause to depart from the statutory minimum.
In the case of DUI manslaughter, if the judge imposes a downward departure sentence, they must impose at minimum a four-year prison sentence. That is the best that someone could hope for if they are convicted of DUI manslaughter.
In the case mentioned above, if the defendant cooperates with authorities and agrees to plead guilty, the judge can go ahead and agree to a downward departure sense. This depends on the defendant not having any prior DUI convictions and cooperating with law enforcement to the extent possible.
Her lawyer should not have a difficult time convincing a judge or the prosecution that she is a candidate for a downward departure sentence. Her age is a factor as is the fact that the victim willingly got into the defendant's car knowing that she was inebriated.
Let Us Help You Today 
If you're being charged with a serious crime like DUI manslaughter, you will need an experienced Florida DUI defense attorney to analyze the charges against you and negotiate the best possible outcome. Contact FL DUI Group today to learn more about how we can help.
Resource:
wesh.com/article/a-vietnamese-psa-song-about-hand-washing-is-being-heard-around-the-world/31733845
https://www.flduigroup.com/officer-injured-in-dui-crash-criticizes-plea-deal/