Drunk Driver Kills Own Son and Another Driver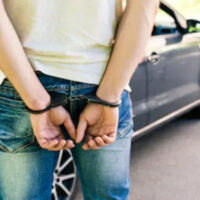 A Florida man is facing two counts of DUI manslaughter and one count of DUI with serious bodily injury after he swerved into oncoming traffic and hit another vehicle head-on. The driver of the vehicle was killed along with his 5-year-old son. His 8-year-old son is in critical condition. If he does not survive, the driver will be facing three counts of DUI manslaughter. The father was also seriously injured in the crash.
DUI Manslaughter Charges 
The driver is facing two counts of DUI manslaughter which is the highest charge you can face related to DUI offenses. The court won't care that one of the victims was his son. In other words, they won't drop the charge just because the man is suffering already. He will also face a DUI manslaughter charge for the death of the other driver. If his 8-year-old son dies, he will face a third DUI manslaughter charge. If not, he will face a third charge of DUI causing serious bodily injury.
DUI manslaughter charges have maximum sentences of 15 years and minimum sentences of 10 years. In cases where a judge sees fit to diverge from the sentencing guidelines, they may impose no less than a four-year sentence. So his maximum sentence will be 45 years with a minimum of 12 years. He likely will not qualify for the diversion program, however. The circumstances of his case are not entirely known, but downward departure sentences are rare in DUI accidents involving multiple deaths. If the driver of the vehicle was over the legal limit while he was operating the car, then he's guilty of the crime.
Was He Drunk? 
The one piece of information that we don't have from the article is what his BAC was recorded at after the accident occurred. We know that the driver swerved into the center lane and struck another vehicle, but we don't know why. Police suspect drunk driving was involved, but without chemical testing, we don't know for sure. The driver could have had a different kind of medical event that led to him becoming unconscious behind the wheel. He may have fallen asleep from being too tired. Unless the police can prove that his BAC was over the legal limit, they won't be able to charge him with DUI manslaughter. It becomes much more difficult to charge him with anything.
Finding Evidence 
After the defendant was stabilized, the hospital likely took a blood sample to see if he was on any drugs or alcohol at the time of the crash. They would need to know that to treat him effectively since drugs and alcohol may produce unwanted side effects with some types of medication. They will also run his credit card to see if he was purchasing alcohol at a local bar. Absent both of these, the prosecution will not have a case.
Talk to an Orlando DUI Attorney 
If you've been arrested for DUI, call the Florida DUI defense attorneys at FL DUI Group today to learn more about how we can help.
Resource:
orlandosentinel.com/news/florida/os-ne-polk-fatal-crash-winter-haven-20201130-64bmq75fcvce7be3tn5vj3hcla-story.html