Judge Revokes Bond For DUI Suspect Who Killed Teen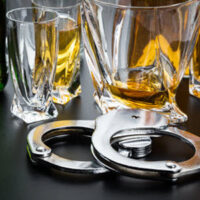 The grieving family of a DUI-related death learned that the bond for the suspect who killed their son had been revoked during a vigil held as a memorial for the deceased. The boy was 17-year-old. The family was returning from a belated birthday party for the boy when the accident occurred. They hoped by leaving later in the evening, they would be able to beat heavy traffic.
Bond was revoked after the state's attorney learned that the man had already faced a DUI charge and was driving on a suspended license at the time of the killing. He is facing 6 charges including DUI manslaughter.
The accident 
The accident occurred when the suspect failed to stop for a car in front of him. He told police that he thought the car was moving and that's why he didn't stop. Police smelled alcohol on the man and said that his eyes were bloodshot and glassy and that his speech was slurred at the scene. The suspect refused to take a blood test at the scene. He is charged with DUI manslaughter, driving on a suspended license causing death, DUI with serious bodily injury, refusing to submit to testing, and more.
Understanding the prosecution 
Prosecutors are going hard and are going to seek maximum penalties on the two homicide-related charges. In cases of DUI manslaughter, you can essentially beg the court to go easy on you. The recommended minimum for the charge is over 10 years in state prison. However, you can argue for a downward departure sentence based on other factors such as this is your first offense or you have an untreated mental health condition. The second time, however, begging the court for leniency becomes much more difficult. Prosecutors will not recommend lesser sentences for a suspect who was driving on a suspended license and had a prior DUI conviction on his record. He will face the 10-year recommended sentence for this crime.
How can you defend yourself from these charges? 
You just don't have a lot of wiggle room in a case like this, but the prosecutors still have to prove that you were drunk at the scene and that your negligence resulted in the accident. In other words, you can't be charged with DUI manslaughter if someone causes an accident with your vehicle while you are drunk.
However, in this case, the facts don't really support that angle of defense. The driver rear-ended another vehicle that he erroneously thought was moving likely because he was under the influence. So drawing a direct connection between the inebriation and the accident will not be hard for prosecutors.
Talk to an Orlando DUI Attorney Today 
Arrested in Orlando on DUI charges? FL DUI Group has experience in DUI defense. Call our Florida DUI defense attorneys today to schedule an appointment and we can discuss your defense strategy immediately.
Resource:
clickorlando.com/news/local/2022/04/06/prosecutor-files-to-revoke-bond-for-man-accused-of-driving-drunk-killing-teen-in-volusia-crash/