Man Arrested For DUI After Crashing Into Restaurant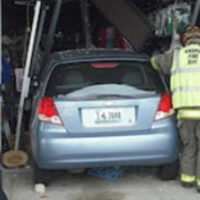 Is it some sort of new protest movement? Are planes too difficult to access? Why are so many vehicles driving into buildings? No one knows, but it seems, at least to be a novel phenomenon, no more than a decade or two old.
What happens? Well, in most cases, onlookers watch an elderly person whose vehicle is halfway through a building attempting to slam the accelerator to get the vehicle further into the building. The driver has confused the accelerator for the brake and doesn't understand why their vehicle is now inside of a building. In some cases, the car is not in reverse when they're trying to back out. In the case we're going to talk about, the driver careened off a roadway and into a restaurant, injuring his passengers and others who were eating meals.
He has since been arrested for DUI. If the accident had occurred in Florida, he would be facing DUI causing serious bodily injury, and DUI causing property damage. Luckily, no one was killed in the accident.
How often do building crashes happen? 
According to the most recent data, vehicle-on-building accidents occur 60 times a day. That means 60 people drive into a building every day. While some of them are on prescription medication, elderly, or whatever, not all of them are. In fact, 26-30% of the crashes were attributed to "pedal error". Pedal error accounts for hitting the accelerator instead of the brake and putting your car in drive instead of reverse when you're backing out of a parking spot.
Often, the best spots are set aside for elderly drivers. These spots ultimately cause the most damage. At present, 17% of vehicle-on-building accidents can be attributed to drunk driving. 7% were intentional. 11% were caused by traffic accidents. And the rest were related to medical emergencies (8%).
In some cases, the weather is a factor, but this remains one of the rarer contributions to building crashes.
Young people crashing into buildings 
20% of drivers who crash into buildings are in their 20s. Drunk driving remains a factor here as does distracted driving, texting, and other problems. The age range only makes up 18% of all drivers, which means our 20-year-olds are contributing more than their fair share of building accidents, albeit, not by much. So, you can't blame grandma and grandpa for the uptick in building crashes we've seen over the past several years. Nonetheless, older drivers (60 and over) contribute more than 60% of building crashes despite representing 19% of active drivers.
Talk to an Orlando DUI Attorney Today 
FL DUI Group represents the interests of those who have been charged with DUI in Orlando. Call our Florida DUI defense lawyers today to schedule an appointment and we can begin discussing your defense immediately.
Sources:
lohud.com/story/news/local/2018/02/27/why-do-so-many-drivers-crash-into-buildings/362650002/
apnews.com/article/new-hampshire-massachusetts-driving-under-the-influence-newburyport-5a00cc4b29b343aaef0185c5a1df5359