Man Faces DUI Manslaughter Charges After Death of Cyclist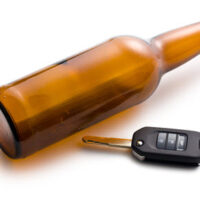 File this one under: Intoxicated motorist flees the scene of a fatal accident. We can't stress enough how bad of a decision this is.
Police have arrested Travis Osorio, a thirty-year-old Opa-Locka man who struck and killed a bicyclist earlier this year in April. Osorio was driving on a suspended license with a BAC of .13. Police say that Osorio veered right into the bicycle lane at 3:46 PM. His 2005 Ford Explorer collided with Donald Haushalter. Haushalter was pronounced dead at the scene. He was driving his bike legally in the designated lane.
Osorio fled the scene, leaving Haushalter there to die. Osario was later pulled over after the police witnessed him driving erratically. He was tied back to the scene of the crime and admitted to police that he'd had several drinks earlier in the day. He faces up to 15 years in prison and a minimum 10-year sentence for DUI manslaughter.
Mandatory Minimums and DUI Manslaughter
When adjudicating a guilty plea or verdict in a DUI manslaughter, the judge is required to sentence the defendant to a minimum of ten years behind bars. However, the judge has the discretion to weigh aggravating and mitigating circumstances. Mitigating circumstances can be cited in waiving the mandatory minimum sentence and imposing a more lenient sentence. Aggravating factors, however, reduce the possibility that the judge will be willing to waive the mandatory minimum.
The recommended sentence guidelines for DUI manslaughter are between 10 and 15 years. The defendant will also be charged with leaving the scene of a fatal accident and driving on a suspended license.
In a case like this, the motorist who stays behind, alerts police, and faces the music, may be entitled to get a downward departure sentence. The law has recently imposed a mandatory four-year minimum on DUI manslaughter even in the event of a downward departure sentence. However, in cases where the defendant flees the scene in order to escape justice, the court will not look kindly on them and they will be far more likely to add years to the recommended 10-year minimum than to subtract them.
These Are Emotional Cases
Even if the defendant behaves well, cooperates with police, expresses remorse, and doesn't flee the scene, there is a grieving family whose thoughts on the matter will be taken into consideration when sentencing occurs. In this case, you had a man who was someone's son, father, husband, and brother whose family will never be able to see him again.
With a case like this, you have a defendant who's caught dead to rights, left a body in the mud to rot, and didn't seem to care one way or the other about what he had done. It will be difficult for him to convince a judge that he is among the defendants who deserve a more lenient sentence.
Talk to an Orlando DUI Lawyer Today
If you're being charged with DUI or DUI manslaughter, you will need a Florida DUI defense attorney that understands the stakes and can secure you the best possible deal. In cases where a defendant flees the scene of a fatal accident, that becomes that much more difficult. Talk to the FL DUI Group today to see what kind of penalties you might be facing.
Resource:
local10.com/news/florida/broward/police-charge-opa-locka-man-with-dui-homicide-for-hit-and-run-crash-involving-bicyclist
https://www.flduigroup.com/florida-couple-charged-with-dui-having-sex-in-squad-car/