Man Says Donald Trump Drove Him to Drink After Crashing Golf Cart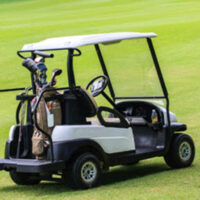 A man from The Villages is facing charges of operating a golf cart under the influence of alcohol. Eighty-two-year-old Cary De Van was extracted from a one-vehicle golf cart crash on July 30. De Van said he hit a wall inside the tunnel while trying to return home. Police believe De Van hit a curb destroying the axle on the golf cart.
When found, police noted that he reeked of alcohol and was slurring his words. De Van wasn't injured and neither was anyone else. No property, other than the golf cart, was damaged in the crash. De Van will face charges of DUI but managed to blow a .148 and a .149 which is .001 lower than what would have triggered expanded DUI penalties. De Van is a lucky man. The golf cart, however, is gone.
Diminished Capacity Related to Trump Derangement 
If you've heard conservatives ever mention TDS, but didn't know what it meant, it refers to Trump Derangement Syndrome which is characteristically similar to ODS, which is the same syndrome but with Obama. De Van claimed he was listening to a speech given by current President Donald Trump when he became so angry that he started drinking. De Van didn't realize just how drunk he was and thought he was okay to drive, even though he was having trouble standing.
While Trump derangement or political rage is not a popular argument in criminal defense cases, diminished capacity is, in some cases, a defense. For instance, if you were in a situation that you considered threatening, and needed to take the wheel of a car to remove yourself from the situation, the court can consider your reasoning or lack of reasoning as a mitigating or aggravating factor.
If this is De Van's first DUI within the past five years, then De Van's case checks each one of the mitigation boxes that the court could use to reduce his sentence.
Firstly, no one was either injured or killed in the accident. Secondly, the only property that was damaged belonged to the driver. Thirdly, his BAC (albeit barely) was below the legal threshold for expanded sentencing. So, the 82-year-old man will most likely get a slap on the wrist, at least in DUI terms.
Here comes the bad news. Just because De Van crashed a golf cart (and not a motor vehicle) he will face the same administrative penalties to his driver's license that anyone convicted of a DUI in a car would face. This holds true for ride lawnmowers, e-scooters, and even bicycles. Just about any vehicle that is capable of moving a person from point A to point B can be considered a "vehicle" for the purposes of DUI law.
Talk to an Orlando DUI Attorney Today 
If you've been charged with DUI, call the Florida DUI defense attorneys at FL DUI Group to learn more about how our services can mitigate the damage to your future.
https://www.flduigroup.com/florida-man-crashes-into-drive-sober-or-get-pulled-over-sign/