Driver Rescued From Fiery Blaze After DUI Crash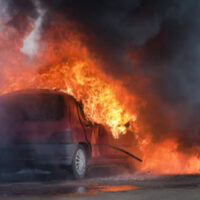 A driver had to be pulled from a fiery crash after he crashed his SUV into a street sweeper. A watch commander and a bystander assisted in removing the man from the SUV after he'd become pinned underneath the steering wheel. The vehicle was on fire at the time. When watch commander Jason Neat arrived at the scene, he found a man and a woman attempting to pull the driver from the vehicle. Neat and the bystander removed 28-year-old Ari Waffle from the vehicle.
According to police, Waffle asked if he could recover his shoes from his burning vehicle, but was told that the vehicle was on fire, so he couldn't. He was then directed to sit on the curb. However, Waffle was so drunk that he appeared to be having difficulty doing even that. Police also noted his eyes were watery and bloodshot, and he reeked of alcohol.
Waffle Denies Driving SUV 
Even though Waffle had to be extracted from behind the steering wheel, he denied that he was the one driving. Officers pointed out that it was unreasonable to believe that a man who was sitting in the backseat ended up pinned behind the steering wheel. Waffle then told police there was "no way" he was drinking prior to the crash. Waffle then insisted he would not do any field sobriety tests without a lawyer present, and when police asked him to perform a breathalyzer test, he refused, demanding to be taken to jail.
Waffle will face charges of DUI with property damage because the street sweeper that he crashed into was damaged during the DUI.
DUI With Property Damage in Florida 
While it's not as bad as DUI with injury or DUI manslaughter, DUI with property damage places a serious burden on the defendant to make amends. Firstly, DUI with property damage has roughly double the consequences of a simple DUI. That means that instead of facing a six-month jail sentence, you'd be facing one year behind bars. Additionally, administrative penalties related to license suspension are also doubled.
Another major consideration is that, in addition to a fine of $1,000, the defendant would be expected to make remuneration to the individuals whose property was damaged while they were negligently operating a vehicle. In this case, the government will attempt to recover damages for their injured street sweeper.
Logistically, the street sweeper was a godsend. Had Waffle crashed into a smaller vehicle with his large GMC SUV, that vehicle would have been destroyed and Waffle would be facing a DUI manslaughter charge. Luckily, Waffle and everyone around him survived the incident.
It's extremely doubtful that a jury will believe that Waffle was propelled into the backseat and stuck behind the steering wheel, especially since no other drivers or passengers were found at the scene.
Talk to an Orlando DUI Attorney Today 
If you're facing charges for DUI in Orlando, then you need a skilled Florida DUI defense attorney who will ensure that police obeyed all the rules when they pulled you over. Call FL DUI Group today to learn more.
Resource:
lickorlando.com/news/local/2020/11/03/video-dui-driver-pulled-from-burning-suv-after-crashing-into-street-sweeper-deputies-say/
https://www.flduigroup.com/man-will-face-dui-charges-related-to-deaths-of-three/