Hornets' Player Faces DUI After Falling Asleep At The Wheel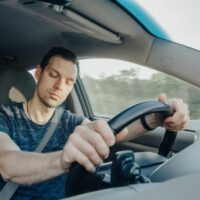 So, for whatever reason, there are a larger-than-average number of articles in the newspaper this week about individuals who were found asleep at the wheel. This seems like a good time to discuss sleeping in your vehicle as a means of dealing with your inability to safely drive.
Recently, James Bouknight was found passed out in his vehicle with a gun in his hand according to Charlotte police. Bouknight is a shooting guard for the Hornets. He was found with a glock in his lap while asleep in his vehicle. He is facing a DWI charge (as they like to call it in North Carolina).
Police say that they spent an hour attempting to wake the NBA player using airhorns and a public address system. When he finally did wake up, he appeared confused. He ate something inside of his vehicle, and then crashed the vehicle into two police cars. Eventually, he left the vehicle and was detained.
Bouknight was arrested on an alcohol-related incident while in college. It remains unclear if he was convicted of DUI in that case. If so, he could face enhanced penalties related to a second conviction in a few years.
Bouknight apologized to his team and the fans for being a distraction.
Sleeping it off in your car 
There are some situations in which it makes a lot of sense to pull off the road and sleep in your vehicle in order to avoid causing an accident when you are too drunk to drive. In fact, that seems like the right choice. However, law enforcement interprets the situation as a question of what they can prove in court. If they can prove that you arrived at the parking lot while intoxicated, you are guilty of DUI.
In order to avoid a DUI conviction while sleeping it off, you would need to position yourself in the backseat with the keys out of the ignition. Chances are not good that law enforcement is going to laud your good choices for passing out in your car. But it becomes more difficult to prove that you were in "actual physical control" of a vehicle that was not turned on and you had no means of controlling from the backseat.
That being said, it is not a crime to sleep in your car. There may be local ordinances that allow police to initiate a police intervention, but you're not looking at an actual crime, rather an infraction like a traffic ticket or trespassing in the worst case.
At any rate, law enforcement holds you responsible for placing yourself in that position in the first place. Although there may be valid excuses, like starting a new medication, law enforcement figures that it's your lawyer's job to argue and not their job to judge. So chances are good that you will face charges even if you can beat them. In other words, try to avoid sleeping in your car, but if you can't drive home, the right thing to do is not to try.
Talk to an Orlando DUI Attorney Today 
FL DUI Group represents the interests of those charged with DUI in Orlando. Call our Florida DUI defense lawyers today to schedule an appointment and we can begin preparing your defense immediately.
Source:
nba.nbcsports.com/2022/10/19/hornets-bouknight-found-passed-out-in-car-holding-gun-before-dwi-arrest/