Driver Crashes Into Kennewick Apartment Building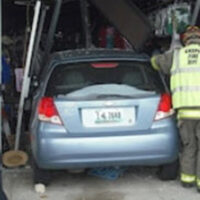 Moments after police broke off a pursuit involving a blue Dodge Durango, they received a call that a blue Dodge Durango had crashed into a Kennewick apartment complex. The police called off the pursuit of the vehicle due to safety concerns. The driver ended up wedging her vehicle in between two apartments. The damage to both apartments was considerable. Police had difficulty extracting the driver from the vehicle.
The driver has a terrible driving history which included a fatal accident. In this article, we'll discuss the potential charges against her.
The Driver's History 
The driver had been jailed multiple times. Once for illegally delivering controlled substances and she also faced charges related to the death of another driver. She was sent to prison in 2010 on charges related to the driver's death but was released. In 2016, she went back to prison for violating the terms of her release. Police found evidence of drugs in her vehicle at the time. She was released again in 2018.
It's unclear from the article what charges the driver will face. However, engaging in a high-speed chase with police that ends with crashing your vehicle into two apartments will get you in trouble regardless of whether or not you are under the influence at the time. The police have not divulged any charges related to this case. One would assume that after the driver was extracted from her vehicle which was partly inside of an apartment, that she would be taken to the hospital where they would conduct chemical tests to determine what, if any, substances she was on. If she was not on any substances at the time of the crash, she is still guilty of reckless driving, evading police, speeding, and more. If she was under the influence, then she can be charged with DUI with property damage, evading police, and whatever else. Attempting to elude police is a felony, so the police would not necessarily need to prove DUI to put the driver behind bars, especially given her history. Luckily, there was no one in either apartment at the time of the crash.
Now What? 
The driver's situation is grim. Not only does it appear as though they have a DUI manslaughter on their record already, but it also appears as though they haven't learned their lesson. In this case, the driver, who was presumably drunk at the time, engaged police in a high-speed chase that ended in an incident that could have easily cost someone else their life. The courts look upon these situations and see someone who is without remorse for their crimes. It will be difficult for the defendant or their attorney to convince the court that she deserves another chance. The woman will go back to prison, potentially, for quite some time. In situations like this, Florida stacks charges against the driver while prosecutors lobby for the statutory maximum.
Talk to an Orlando DUI Attorney Today 
If your vehicle had to be recently extracted from someone's apartment, chances are, you need a lawyer. Call FL DUI Group today to talk to one of our Florida DUI defense attorneys and allow us to begin preparing your defense immediately.
Resource:
newstalk870.am/driver-who-slammed-kennewick-apartment-has-accident-history/